Bons Baisers de Bergame is a musical play written and performed by Corentin Colluste.
A lecturer talks about Claude Debussy. He relates a sweet love encounter under the moonlight, within the passionate and sentimental end of the 19th century. Note after note, he translates for us the precise story he can perceive in the Suite Bergamasque, a masterpiece he plays on the piano. However, during this quite serious conference, his private life suddenly seems to interfere. Which encounter is he really talking about? Isn't he just mixing everything up?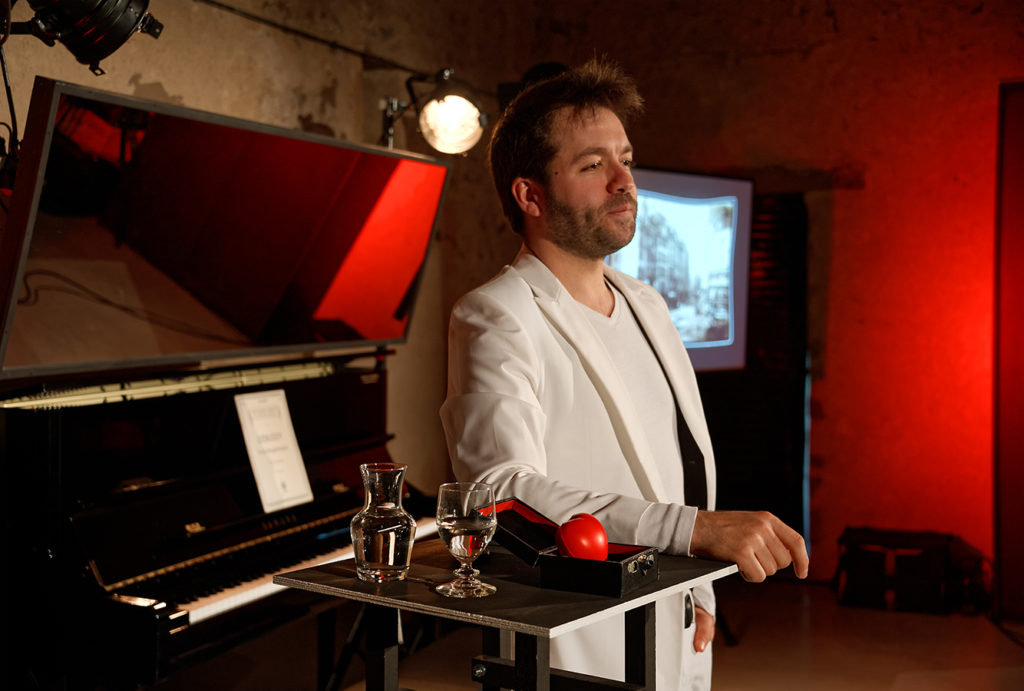 This play was created in march 2019 by the Groupe Ubürik, with the support of the Conseil Départemental de l'Allier, the Communauté de Communes Berry Grand Sud, the Collège Alain Fournier de Vallon-en-Sully, the Fabrique Poïein and the Piano Lefebvre.
Text and performance: Corentin Colluste / English adaptation: Héloïse Chouette / Direction: Léa Debarnot and Kim Aubert / Music: Claude Debussy / Images, photographs and videos: Nayel Zeaiter, Louis Matray and Alexis Boullay.
→ Discover a trailer of the play
→ Access to the artistic presentation file of the play.
Bons Baisers de Bergame (in english) has already been performed:
March 26 , 2022, at La Chaussée, home of the famous Footsbarn Travelling Theatre, in Haut-Bocage, France.